Air Fryer Coconut Shrimp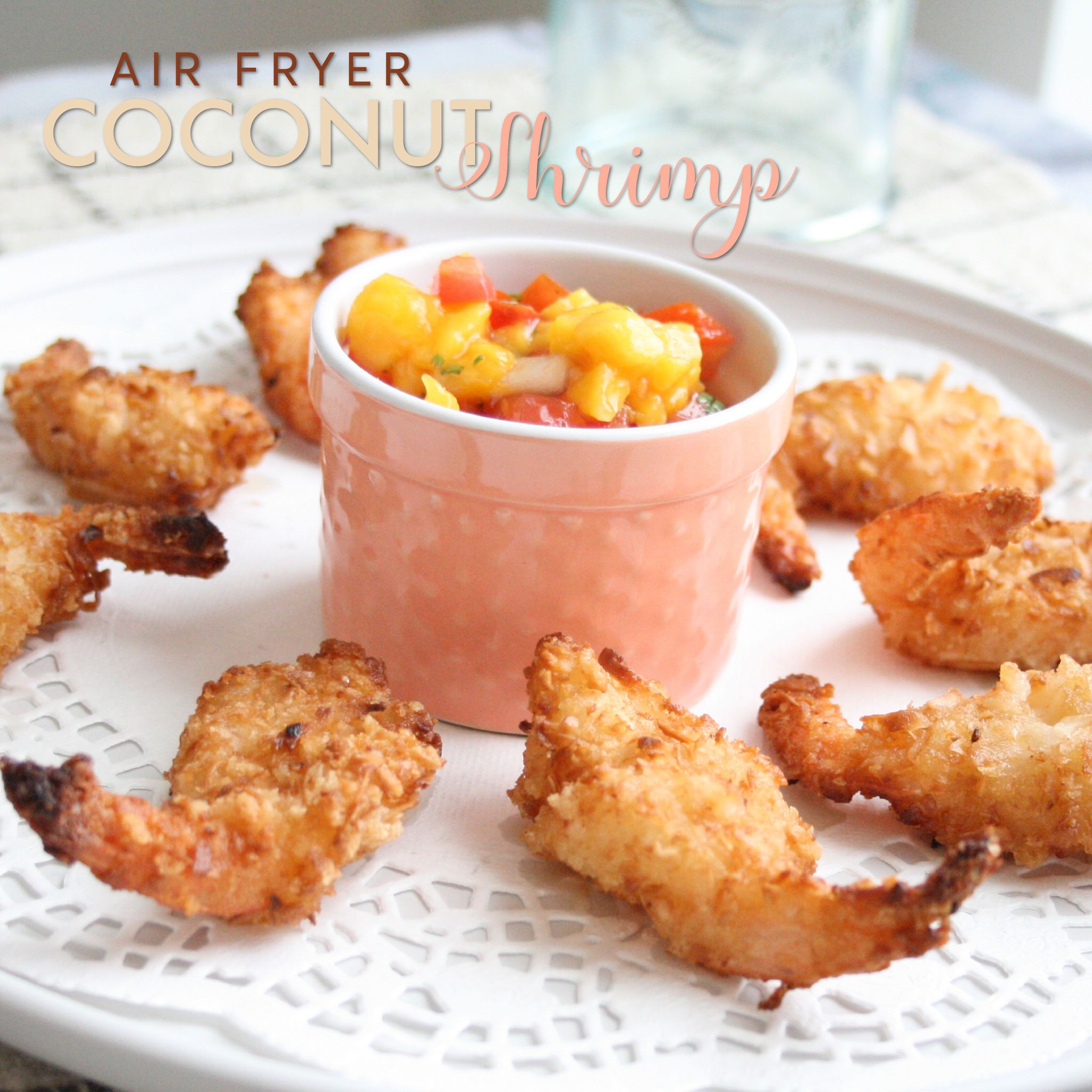 This recipe brings a taste of the tropics with a low-carb twist! This air fryer coconut shrimp with mango salsa recipe is sure to be a fun and delicious appetizer that can be enjoyed anytime, anywhere.
Normally, coconut shrimp is dredged with wheat flour and then fried, but in order to make this both keto and gluten-free we replaced the wheat flour with coconut flour. Also, since we won't be frying it in oil, it will be overall a healthier alternative to the normal version. The refreshing mango salsa goes great with the shrimp, really leaning into the tropical flavor.
Remember to buy wild-caught shrimp that doesn't have additives or chemical solutions used to make them look plumper and feel heavier. It will taste fresher and more natural, as well as be far healthier for your body!
Butterflying the shrimp is very easy (which will be explained below), but make sure you have a plate of ice for your butterflied shrimp to sit on so while you're working on the rest, it will remain fresh. You don't actually need to butterfly them if you don't feel like it, but it does give you more coconut to surface area ratio.
Ingredients
1 dozen wild-caught organic shrimp (large)

1 cup organic coconut flour

1 large organic free-range egg, beaten

1 cup organic shredded coconut (unsweetened)

Organic olive oil spray

1 tablespoon organic lime juice

½ cup diced ripe organic mango

½ cup diced ripe organic tomato

2 tablespoons organic onion, diced

2 tablespoons organic diced red bell pepper

1 tablespoon orange juice

1 tablespoon organic diced cilantro

Salt and pepper to taste (½ teaspoon each for the coconut flour, more for mango salsa)
Directions
Remove the head and shell of the shrimp (if not already shelled), keeping the tail on. Make a cut with a sharp paring knife 2/3rds of the way into the spine (without cutting all the way through) from head to the shell of the tailgate. Open up the shrimp so it is flat, and remove the vein/remnants of the vein if it was not already deveined. Place them on a bed of ice as you work on the rest. 

Beat egg and set to the side. Combine coconut flour with ½ teaspoon each of salt and pepper. Spray or brush an air fryer baking sheet with organic olive oil spray to prevent it from sticking.

Using a paper towel, gently dry the butterflied shrimp. Dredge in coconut flour, then dip in beaten egg, and coat with shredded coconut. Place on baking sheet belly up (to help it curl the proper direction.) Spray shrimp with organic olive oil spray.

Bake in the air fryer at 375 degrees Fahrenheit for about 9-11 minutes, or until golden.

In the meantime, combine mango, orange juice, lime juice, tomatoes, onions, cilantro, red bell pepper, and salt and pepper to taste. 

When the shrimp is done, serve with mango salsa.