Babaganoush Recipe

Babaganoush is a quintessential medditerranean and middle eastern dish that is healthy, full of fiber, and has a delicious subtly spiced creaminess, making it the perfect dip.
Serve it with carrot, celery, and cucumber sticks instead of pita bread to reduce your carb intake.
Make sure your ingredients are organic so you don't accidentally get a dose of those pesky pesticides that can cause a whole host of problems, including hormonal issues and cancer. 
I roast the garlic as well to give it an extra depth of flavor, and to keep it mellow so the garlic doesn't overpower the flavor of the eggplant.
However, you can also mince the garlic too and mix it in, if you prefer a stronger garlic flavor.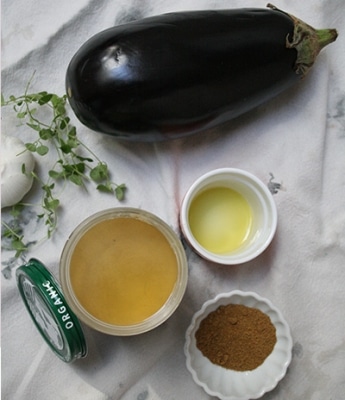 Ingredients
1 large organic eggplant, about one pound

2 tablespoons organic extra virgin olive oil and more for roasting

1 tablespoon organic tahini

1 tablespoon organic lemon juice

1 teaspoon organic cumin

2 cloves organic garlic

½ teaspoon organic cayenne pepper

Minced organic parsley or organic pine nuts, for garnish

Salt and pepper to taste




---
Preheat oven to 400 degrees Fahrenheit

Quarter the eggplant lengthwise and brush with olive oil. Place eggplant quarters on a rack and put into your preheated oven. Roast for about 20 minutes or until the flesh is soft and tender. After the first 10 minutes of roasting, place your garlic cloves into the oven as well.

Once the eggplant is done, remove it and the garlic cloves from the oven and allow to cool. Remove the flesh from the skin and place into a food processor. Add the garlic, cumin, lemon juice, tahini, cayenne pepper, salt and pepper to taste and roughly process or until desired smoothness. Remove, drizzle with olive oil and garnish with minced parsley.

You can serve it with carrot, celery, and cucumber sticks.