Deviled Eggs Two Ways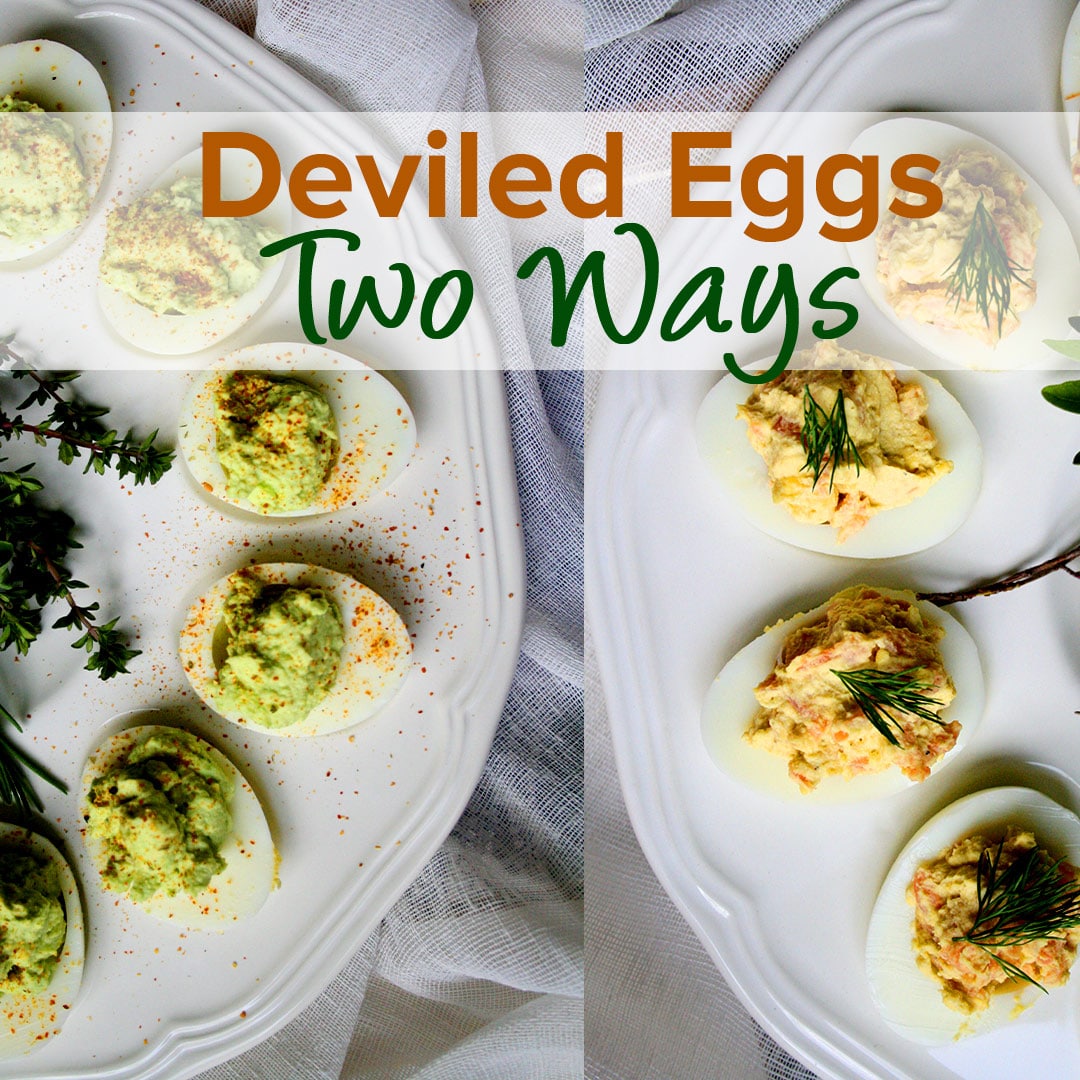 wasabi deviled eggs
At first glance, wasabi deviled eggs might seem a little strange but trust us, if you're a fan of the refreshing mustard flavor that opens your sinuses and your palate, you'll love these deviled eggs—and so will your guests. If you can find real organic grated wasabi, by all means, please use that instead of the powdered stuff (which often is 't true wasabi.) If not, no harm no foul, just spring for an organic one!
We always recommend free-range organic chicken eggs, since while pricier, is both more ethical and healthier for you (after all, what the chicken ingests will go straight into the eggs which go straight into us.)
We often double the recipe just because it disappears so quickly, so don't hesitate to make a dozen… or two.
Ingredients: 
6 free-range organic chicken eggs, hardboiled

¼ cup organic olive oil mayonnaise

1 tablespoon organic yellow mustard

1 teaspoon organic wasabi powder (more or less depending on how much you can handle the wasabi.)

1 tablespoon organic  apple cider vinegar

Salt and pepper to taste

Organic smoked paprika for garnish (or for an Asian flair, Togarashi pepper flakes, organic pickled ginger, or a dab of organic Sriracha)
Directions:
Half the hardboiled eggs and carefully remove the yolks (10 minutes boiling and then an ice bath will make them easier to peel.) Reserve the hard-boiled egg whites.

Mix the yolks, wasabi powder, mayonnaise, mustard, vinegar, and salt and pepper until well combined and smooth. Place mixture into a piping bag (or use a spoon) and fill the egg white cups with it. 

Garnish with smoked paprika. Refrigerate until serving,
Smoked Salmon Deviled Eggs
This brunch delight is pretty addicting—and because of that, we highly recommend you make extra before it disappears off of the table! Deviled eggs are a staple for entertaining and can be brought out during barbecues or formal date nights with a lot of fanfare and welcome. This one is made with smoked salmon, topped with a sprig of dill.
We recommend you try and buy smoked wild sockeye salmon, or organic smoked salmon simply because they are much healthier and packed full of good nutrients and fatty acids and more importantly, no artificial color or flavor. Spring for organic free-range chicken eggs too.
Ingredients:
6 free-range organic chicken eggs, hardboiled

¼ cup organic olive oil mayonnaise

1 tablespoon organic yellow mustard

¼ cup finely minced smoked wild sockeye salmon

1 tablespoon organic apple cider vinegar

Salt and pepper to taste

Fresh organic dill for garnish
Directions:
Half the hardboiled eggs and carefully remove the yolks (10 minutes boiling and then an ice bath will make them easier to peel.) Reserve the hard-boiled egg whites.

Mix the yolks, mayonnaise, mustard, vinegar, and salt and pepper until well combined and smooth. Fold in the smoked salmon. Place mixture into a piping bag (or use a spoon) and fill the egg white cups with it. 

Garnish with a sprig of dill. Refrigerate until serving,