Grilled Eggplant, Zucchini, and Tomato Tower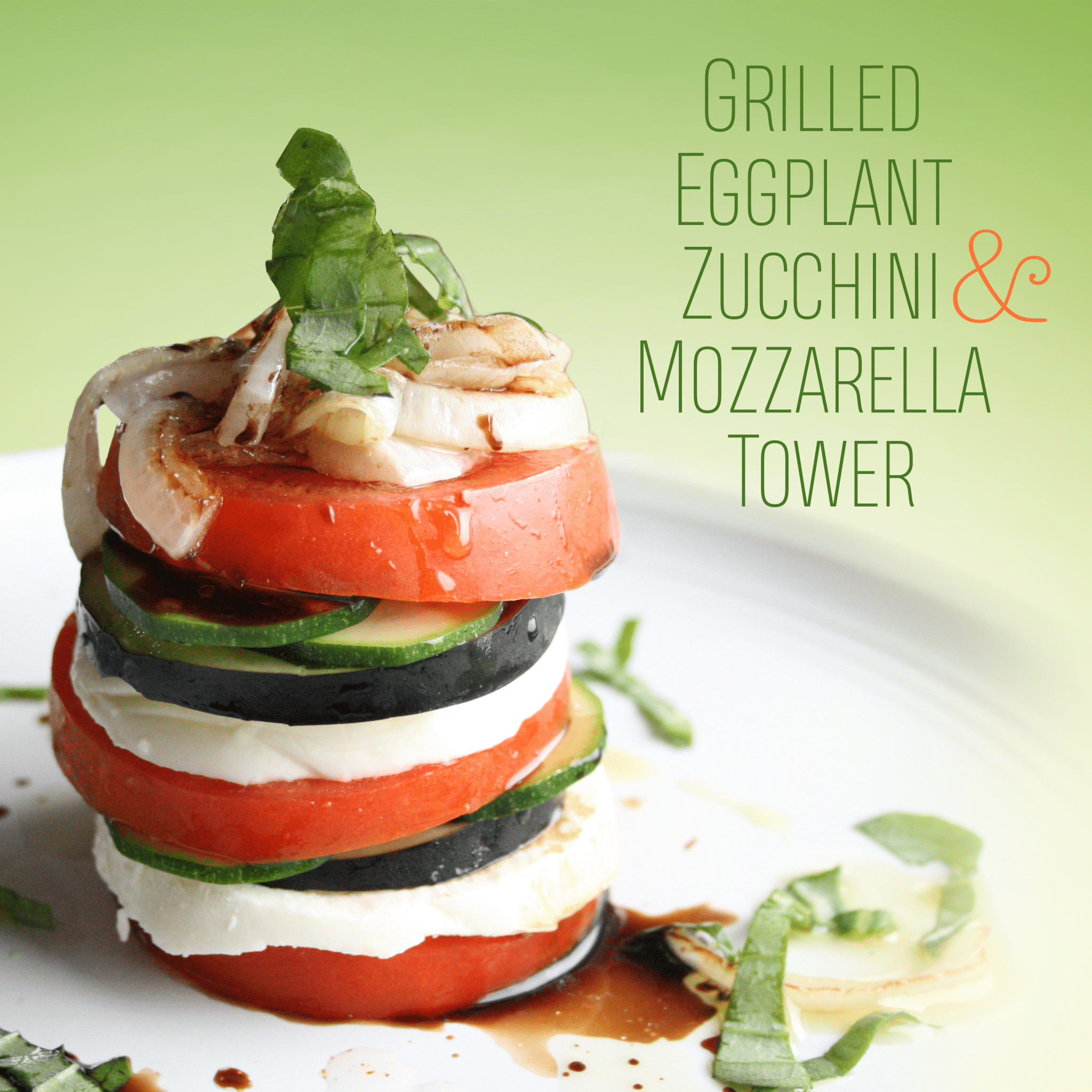 This is a fun recipe that is simple to put together but quite delicious as an appetizer or light main dish. When picking out the vegetables, make sure the circumference of the eggplants, zucchini, tomatoes, and mozzarella cheese are of similar size (of course, the zucchini will be smaller) so that the tower, which will be about 3-5 inches high, will be stable. 
Use organic vegetables to avoid the pesticides that might be clinging to the skin and a good organic extra virgin olive oil which will help bring out all the fresh flavors of the veggies.
Ingredients
2-3 half-inch organic eggplant rounds

About a dozen thinly sliced organic zucchini rounds

1 organic tomato

2-3 slices of organic grass-fed mozzarella cheese

¼ cup organic extra virgin olive oil, plus more for drizzling

1 teaspoon organic oregano flakes

About a dozen organic basil leaves

1 clove garlic, minced

½ cup organic thinly sliced sweet Vidalia onions

Salt and pepper, to taste

Organic balsamic vinegar, for drizzling
Directions
Preheat oven to 400 degrees Fahrenheit

In a bowl, combine oregano, olive oil, minced garlic, and salt and pepper.

Toss zucchini and eggplant rounds in the mixture.

Roast zucchini and eggplants in a single layer for about 15 minutes, or until tender.

Caramelize the onion over low heat in a drizzle of olive oil, with some salt and pepper to taste. Set to the side.

Assemble the tower by alternating slices of eggplant, tomato, mozzarella, basil leaves, and zucchini rounds (depending on the size of the rounds, you can layer the zucchini rounds on top of one another in a clockwise or counterclockwise order to match the circumference of the rest.)

Top with caramelized onions, drizzle with olive oil and balsamic vinegar.

You can chill the tower first before drizzling the olive oil and vinegar as well for a cool and refreshing summer dish.