Polyphenols & Your Holiday Dishes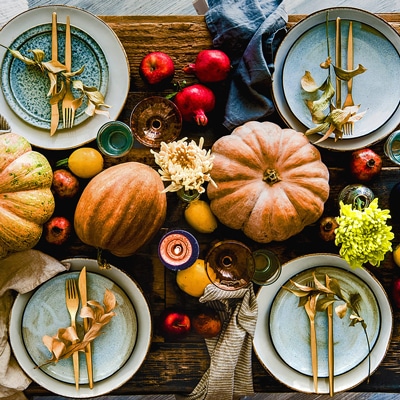 It's the most wonderful time of the year!
From Halloween through New Year's Day and all the holidays in between we indulge in our favorite foods and family fun. 
The food is a part most of us really love during our celebrations.
The foods we eat tie us back to our traditions as kids.
Whatever your favorite may be, that taste of home is one of the most special ways to get back to your roots and enjoy the simplicities of life. 
What you may not know is that your traditional foods — no matter what holiday you celebrate — are packed to the brim with polyphenols!
So while you may be nervous to indulge in the things you love the most for fear of packing on some extra pounds, you can justify a lot of them since they offer your body the polyphenols you need to stay healthy!
Quick Polyphenol Overview
We talk about polyphenols a lot so this will be short in case some of you are new around here.
Polyphenols are bioactive compounds found in all food sources that come from plants.
Polyphenols will be found in every part from the seeds and bark to the leaves and roots. 
We aren't suggesting that you go out and start eating tree bark.
We are able to extract polyphenolic compounds from these non-edible plant parts and use them as extracts in supplements and foods. 
Polyphenols are broken down into hundreds of different groups.
Some are more potent than others.
Some focus on different actions like cardio- or neuroprotection while others increase compounds in our bodies that normally aren't available to us. 
The main positive of polyphenols, though, is that certain ones increase our antioxidants.
Antioxidants pair up with reactive oxygen species to make them stable.
This avoids them from causing harm throughout the body.
Common Foods Containing Polyphenols

When we hear about polyphenols it's typically about berries and other fruits, along with vegetables. 
So, of course, we will suggest eating them, just because it's important information for those who may not know. 
This section will cover some of the common foods you hear about that are packed with polyphenols that are typically eaten during the holidays.
Cranberries and Other Berries
Berries are one of the first foods that usually comes to mind at the mention of polyphenols, especially blueberries. 
Cranberries are a very festive berry that are used a lot during the holidays and contain a lot of polyphenols.
Cranberries are versatile and can be prepared in many different ways, which is why they're so often used with different holiday meals. 
When tested in a study, it was found that dried cranberries are superior to other preparations of cranberries (frozen, sauce, jellied sauce).
When cranberries are dried they keep more of the antioxidant and polyphenolic benefits.
Typically cranberries are known for their beneficial use to the urinary tract, but actually it was found that the polyphenols from cranberries help fight gliadin sensitivities. 
Gliadin is a protein that makes up gluten and usually the main threat with gluten sensitivities.
So if you have any gluten sensitivities and are exposed to gluten, eating some cranberries may help to avoid side effects. 
Citrus Fruits
Oranges tend to be used to brighten up a lot of different holiday recipes and drinks. 
Citrus fruits are high in polyphenols along with Vitamin C which helps boost your immune system to keep you going strong all winter long!
Citrus fruits have also been proven to help with cognitive issues and depression.
So they might help you to fight that seasonal affective disorder (SAD) this year!
Wine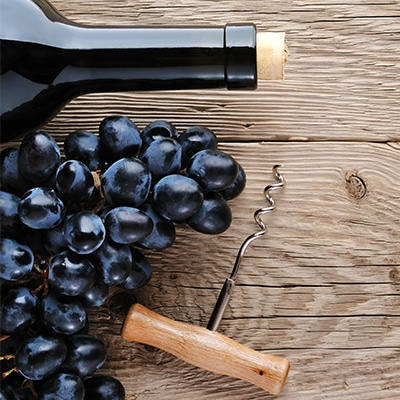 We obviously couldn't leave out a fan favorite! Wine!
Heart-healthy polyphenols are our biggest argument winner for drinking wine. 
Wine polyphenols have been said to protect your heart.
Having a glass to deal with family stress that tends to rise at this time of year? (We don't blame you!)
Cocoa
Nothing beats a cool winter day like a hot cup of cocoa. Cocoa polyphenols are one of the best!
Make sure your cocoa is at least 70% cacao and doesn't have added sugars.
Cuddling up to watch movies with a cup of hot cocoa like this not only makes your tradition healthier but also lets your body heal itself. 
Surprising Sources of Polyphenols
We always tell you that any part of the plant offers you polyphenols.
However, we rarely discuss certain plants that really offer your body tons of polyphenols without you even realizing it!
Nuts

Nuts are a staple across the world for main dishes and desserts alike.
We normally think of them as a protein, but actually, they're extremely high in polyphenols as well.
Nuts are prebiotics so they make their way through the small intestines undigested until they reach the colon.
In the colon, they are fermented and broken down.
This process extracts the nutrients that normally wouldn't be available to us. 
This process lets us get the polyphenols from the nuts as well. 
Walnuts are considered to be the best source of polyphenols but some of the other nuts you'll want to make sure to eat include:
Almonds

Cashews

Hazelnuts

Chestnuts

Pistachios
Popcorn
Whaaaat?
Yep, you read that right.
It's not just a healthy snack to aid in digestion with its high amounts of fiber. It's also a healthy snack to give yourself lots of body-boosting polyphenols!
Popcorn also gives you a significant amount of iron, zinc, magnesium, and phosphorus. These are usually very helpful in fighting depression and improving your immune system.
Squashes and Root Vegetables
Pumpkin and sweet potato pies are some of the best pies at Thanksgiving.
They're also some of the best ways to get lots of polyphenols without even knowing it!
Both of these vegetables are full of carotenoids and polyphenols to help your body be at it's prime all holiday season long. 
Gingerbread Cookies
Gingerbread cookies may not sound like the healthiest option for a snack.
However, if you look at the ingredient list you'll see that they're actually filled with tons of polyphenols
Spices offer your body polyphenols and the strongest ones are found in gingerbread recipes:
Ginger

Cinnamon

Clove

Nutmeg
Holiday Polyphenols Found in Atrantil
You didn't know how festive Atrantil really is, but some of the ingredients found in lots of holiday foods are of the 3 staple ingredients in Atrantil.
Peppermint is one of the most commonly used ingredients during the holiday season.
That fresh explosion in your mouth shows how it's not only a powerful taste but that's also how strong it can be in your body. 
Peppermint polyphenols help to protect your digestive system and reduce inflammation.
Horse chestnut is full of tons of polyphenols.
While you may not use this exact nut in your recipes, Atrantil uses it to help fight the methane production in your gut to prevent bloating and other side effects you might experience this holiday season. 
Grab your Atrantil, make some extra popcorn, drink your hot cocoa and enjoy all of your favorite activities all through the holiday season all while getting tons of polyphenols!