Jicama Salad Recipe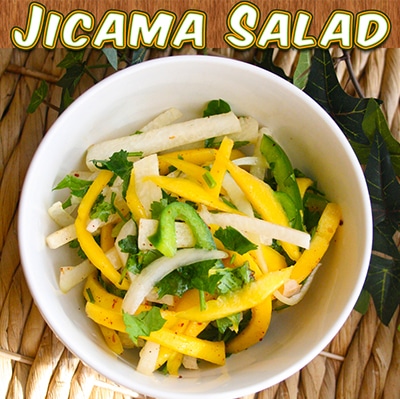 Key Notes: Paleo, Keto, Gluten-Free
---
Jicama, Pachyrhizus erosus, is the tuber of a vine native to Mexico, cultivated and eaten around the world.
Low in carbs (only 250 calories per tuber), but crisp, juicy, and slightly sweet, Jicama is a great ingredient to add to your Paleo and Keto repertoire.
Since it is a little bland and often used to give texture and mouthfeel to dishes, pairing it with fragrant mangos, peppers, onions, and lime juice creates a very balanced, refreshing, and bright salad.
Make sure you source organic ingredients to avoid accidentally ingesting pesticides and fungicides, especially since tubers can be dynamic accumulators of both.
Serve this at your next brunch to welcome the warmer weather!

Ingredients
½ cup organic Jicama, matchsticked

½ cup organic mango, matchsticked

Juice and zest of 1 organic lime

2 tablespoons organic Cilantro, minced

½ cup organic Bell Pepper, shredded

½ cup Onion, shredded

Salt and pepper




---
Combine jicama, mango, bell pepper, onion, cilantro, lime juice and zest, and salt and pepper to taste together.

Toss to coat evenly and place in the refrigerator. Allow to marinate for 20 minutes – 1 hour before serving.

Serve chilled.