Low Carb Beef Stroganoff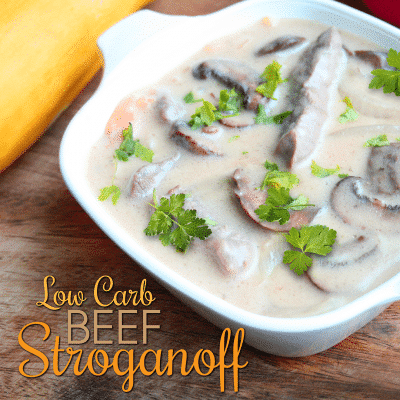 This low-carb beef stroganoff recipe can be done with a few pasta replacements. The closest would be using an organic shirataki flat pasta which can be found in the health foods section of your local supermarket. Shirataki is a type of noodle made with the konjac yam, containing no digestible carbs (mostly fiber.) Zoodles and spaghetti squash are also great pasta substitutes if you can't find shirataki noodles.
Remember, when cooking beef stroganoff, you can either choose to cook the beef until it's just done or for a long time until it tenderizes again, anything in between will be too tough. You can easily do this in a pressure cooker or crockpot, only stirring the sour cream in at the end so it doesn't curdle.
If you were missing something pasta-like, this is definitely the dish for you! 
Ingredients
1 package Organic Shirataki flat pasta, Zoodles, or Spaghetti Squash

1 cup organic grass-fed sour cream

1 cup organic grass-fed steak, cubed

1 cup sliced organic baby Bella or white button mushroom

2 cloves organic garlic

1 tablespoon organic minced parsley

½ an organic onion, sliced

2 tablespoons organic grass-fed butter

½ teaspoon organic Worcestershire sauce

salt and pepper to taste

½ cup organic beef broth

1 teaspoon organic paprika

1 tablespoon organic dijon mustard
Directions
Cook shirataki pasta according to instructions, or steam zoodles/spaghetti squash until desired done-ness.

In a pan, saute garlic and onion in butter until fragrant, and add the mushrooms and cubed steak. Continue cooking until the steak is browned.

Add beef broth, paprika, Worcestershire, and dijon mustard. 

Remove from heat, stir in sour cream, and then toss in the shirataki pasta, zoodles, or spaghetti squash.