Mini "Crustless" Pumpkin Pie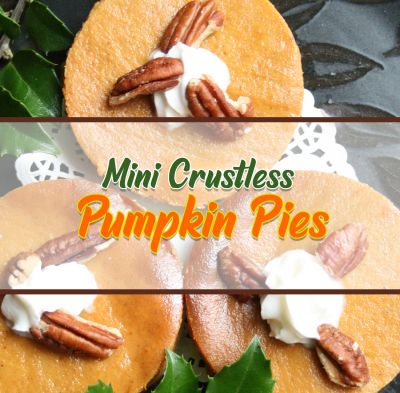 The fact that this pumpkin pie is crustless doesn't mean it doesn't have a delicious crunch in the form of chopped toasted organic pecans! actually, if you wanted to make this keto-friendly but still with a crust, you could definitely do with organic almond or coconut flour-based one, but the way we're making this today is simple and delicious all on its own. We recommend that instead of sugar, you add the equivalent of organic stevia or monk fruit sweetener, both of which are great sugar substitutes without the calories or the carbs. 
Monkfruit is many times sweeter to our taste buds than sugar, so make sure you follow the directions for what the equivalent might be. We don't recommend using honey for this since honey has a strong flavor all on its own and might overpower everything else. 
You can use organic canned pumpkin or you can try making your own pumpkin puree. If you choose to make your own, we recommend steaming, pressure cooking, or even roasting as opposed to boiling so that it doesn't become too soupy or watery which will negatively affect the filling. Tiny cake pans or pie pans work for this!
You can make unsweetened whipped cream with the remaining organic cream to top it off!
Ingredients
2 cups organic pumpkin puree

3 organic eggs

The organic stevia or monk fruit sweetener equivalent to 1 cup sugar

½ cup organic grass-fed heavy whipping cream

1 tablespoon organic cinnamon

1 teaspoon organic minced ginger

1 tablespoon salted grass-fed butter

Pinch organic clove powder

Pinch organic nutmeg powder

Organic toasted pecans, chopped or whole for garnish
Directions
Preheat oven to 375 degrees Fahrenheit 

In a blender, combine all the ingredients and pour them into a miniature pie or cake molds (3-inch circumference tins).

Bake for 25 – 35 minutes, checking at 25, 30, and 35 for done-ness. Once the majority has set, it is ready. The center may still be slightly wiggly, but that will set as it cools.

Remove and allow to cool completely. Garnish with pecans, chopped or whole.