Protein Power Balls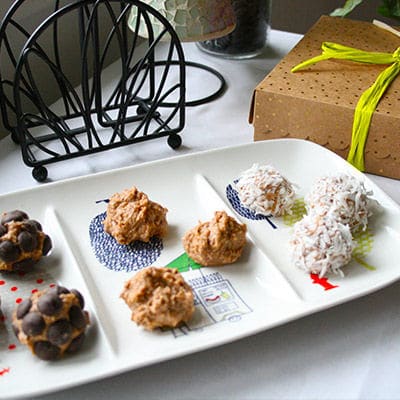 This protein power ball recipe is actually a base for a whole lot of customizable treats you could make. Some people add oats, shredded coconut, raisins, other dried fruits like dried strawberry pieces, chia seeds, walnuts and pecans—basically, these delicious little snack morsels that are meant to bump up your protein intake could be anything you want it to be. You can also add spirulina as well.
Make sure you use organic ingredients. If you're severely worried about your carb intake, swap the dates out for some no calorie sweetener, such as organic monk fruit sweetener—a little goes a long way.
Ingredients
4 tablespoons organic Whey protein (chocolate or vanilla)

1 cup unsalted organic almonds

3 Dried Pitted Organic Medjool dates

4 tablespoons unsweetened organic Applesauce 

Unsweetened organic dark chocolate chips
Combine the whey protein, almonds, applesauce, and dried dates into the food processor and blend until it becomes a smooth dough. 

Place nut mixture into a bowl and mix in the dark chocolate chips. Using a spoon, scoop spoonfuls into the center of a piece of cling wrap and shape into a ball. Alternatively you can use your hands.