Easy Gut Friendly Ratatouille Recipe

Ratatouille (Serves 6 – 8)
Gluten-Free, Paleo, Keto, Diabetic-friendly, Whole30 Zucchinis, tomatoes, and bell peppers are on the list of vegetables that contain the highest amounts of residual pesticides even after washing them thoroughly–which means that they are on the "must" list of organic produce. Now part of the infamous "Dirty Dozen", their thin skins are easily punctured during transport, meaning those pesticides, fungicides, and herbicides are all absorbed into the flesh, rendering washing ineffectual. However, fear not! This is where organic ingredients provide all the taste and none of the harm! This beloved French dish is hearty and savory, perfect for using up that summer bumper crop or during the long cold winter nights when you want something to warm you to the bones. Best of all, you can eat this knowing you're not ingesting harmful chemicals while getting a heaping serving of your favorite vegetables! Try to choose zucchini, yellow squash, and eggplant of similar size and diameters so that the final dish looks uniform. If you find alternating slices too much work, you can also dice all the vegetables into one inch pieces for a rustic style. Throwing it under the broiler at the end allows it to take on a mild roasted flavor. It freezes well and can easily reheat, transforming into a delicious breakfast with the addition of an egg or tasty soup with broth.
Ingredients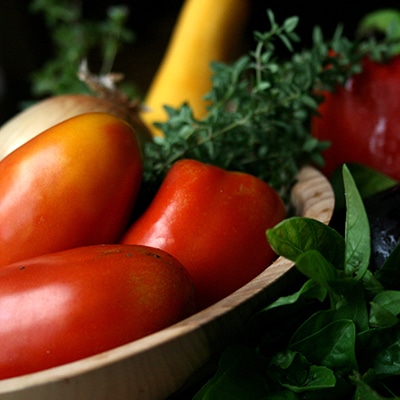 1 Organic Green Zucchini, sliced ¼ inch thick

1 Organic Yellow Squash, sliced ¼ inch thick

1 Organic Eggplant, sliced ¼ inch thick

1 Organic Red Bell pepper, diced

1 Organic Sweet Vidalia Onion, diced

8 cloves Organic Garlic, minced

6 Organic Plum Tomatoes, diced

1 cup Organic Fresh Basil, shredded

1 teaspoon Organic Dried Oregano

1 teaspoon Organic Dried Thyme

2 tablespoons Certified Organic Extra Virgin Olive Oil plus more to finish

Pink Himalayan Salt to taste

Cracked Organic Black Pepper to taste




---
In a tall, oven safe pan, saute diced onions in olive oil over medium heat until translucent. Add minced garlic and cook until fragrant, taking care not to burn them.

Add the diced bell pepper and tomatoes, and cook until everything is at chunky sauce consistency. Liberally crush the tomatoes against the side of the pan to release the juices. Lower the heat to a simmer.

Add oregano, thyme, and half of the basil, and stir to incorporate into the sauce. Add salt and pepper to taste. Using your spoon, smooth the sauce in the bottom of the pan.

Starting from the outer rim, begin alternating slices of zucchini, yellow squash, and eggplant spiraling to end close to the center. If you're doing it in a casserole dish, you can line them straight. Cover and allow to simmer until slices are tender–about 10 minutes.

Remove the cover and place the pan under a broiler for 5 – 10 minutes, or until the top is slightly caramelized.

Garnish with the remaining basil and a drizzle of extra virgin olive oil to finish. Careful! The pan will be hot.