Shabu Shabu Hot Pot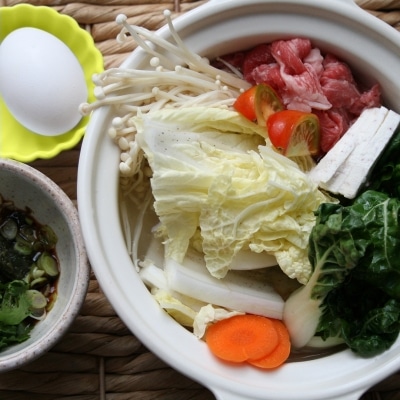 The eastern counterpart to fondue, it's the original DIY meal. All the sauces are laid out for people to mix and matched to their heart's content, and raw ingredients are placed all around a tabletop cooker in either plain or flavored broths (this recipe is with a plain broth.) Thinly sliced organic beef, pork, chicken, or even lamb are swished in little net scoops for just a few seconds before they're cooked. Some people enjoy organ meats such as heart and tripe, or seafood like calamari, octopus, shrimp, clams, fish, and crab.
A vast array of vegetables including napa cabbage, chrysanthemum greens, bok boy, different types of mushrooms, tarot root, and carrot simmer in the pot until tender and then they're also picked up (and sometimes fought over), dipped in your sauce, and eaten.
At the end of the meal, you can crack an egg into the broth (if you haven't used it raw for your sauce, that is), and cook until it's poached. Gently ladle it with some of the broth that everything has been simmering within into your sauce bowl for a delicious finale to this healthy meal.  
Ingredients
Thinly sliced organic beef 

Organic Napa cabbage

Organic Bok choy

Organic Enoki mushroom

Organic Taro root, sliced (omit if watching carbs)

Organic free-range Eggs

1 – 2 slices organic tomato (for broth, omit if nightshade intolerant)

Organic Carrot, sliced

Water
Optional Ingredients
Organic Clams

Organic Oysters

Organic Chrysanthemum greens

Organic Okra

Organic Calamari

Organic Scallops

Organic Sliced white fish