Southwest Taco Salad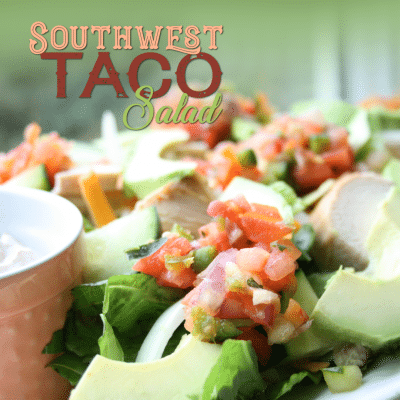 This is like a naked taco bowl, with all of the healthy veggies and fats with none of the carbs! Due to the number of vegetables present, we recommend you spring for organic since the build-up of pesticide and herbicide residue is terrible for your health and your gut bacteria.
You can use leftover grilled organic chicken breast and organic rotisserie chicken, or you can roast your own. We actually recommend if you have, to sous vide the chicken breast, sealing in the juice and making it very tender. If not, it's okay, but you always have that option to bring it to a new level.
Instead of any sort of complicated dressing, combining an organic taco seasoning (we provided the recipe for a taco seasoning mix if you don't have it) with lime juice and sour cream makes for a delicious addition to the salad.
Ingredients
1 organic free-range chicken breast

1 clove organic garlic, minced

½ teaspoon organic oregano

2 tablespoons extra virgin olive oil

Salt and pepper to taste

2 tablespoons organic taco seasoning (or make your own with equal parts organic cumin, chili powder, onion powder, and garlic powder)

1 head organic romaine lettuce, chopped

1 organic avocado, sliced

½ cup organic grass-fed cheddar cheese

1 slice organic onion

½ cup organic cucumber

1 cup organic grass-fed sour cream

1 tablespoon organic lime juice

½ cup organic salsa (or make your own with organic ripe tomatoes, minced organic jalapeno-optional, organic cilantro, minced organic garlic, diced organic red onion, and salt and pepper to taste.)
Directions
If making grilled chicken breast from scratch, combine minced garlic, oregano, olive oil, salt, and pepper in a bowl, and coat the chicken breast with it. You can cook in the pan with a little water on low/medium heat until cooked through, or you can roast in the oven at 375 degrees Fahrenheit for 15-25 minutes, or until the juice runs clear. You can also sous vide (follow the manufacturer's directions for chicken) for an extra tender chicken breast. Slice into ½ inch thick slices.

Combine the sour cream, lime juice, and taco seasoning and mix. 

Assemble the salad by putting together the lettuce, chicken, sliced avocado, cucumber, onion, cheese, and salsa, and drizzle the sour cream dressing over the whole thing.