Spinach, Walnut, Blue Cheese, and Pear Salad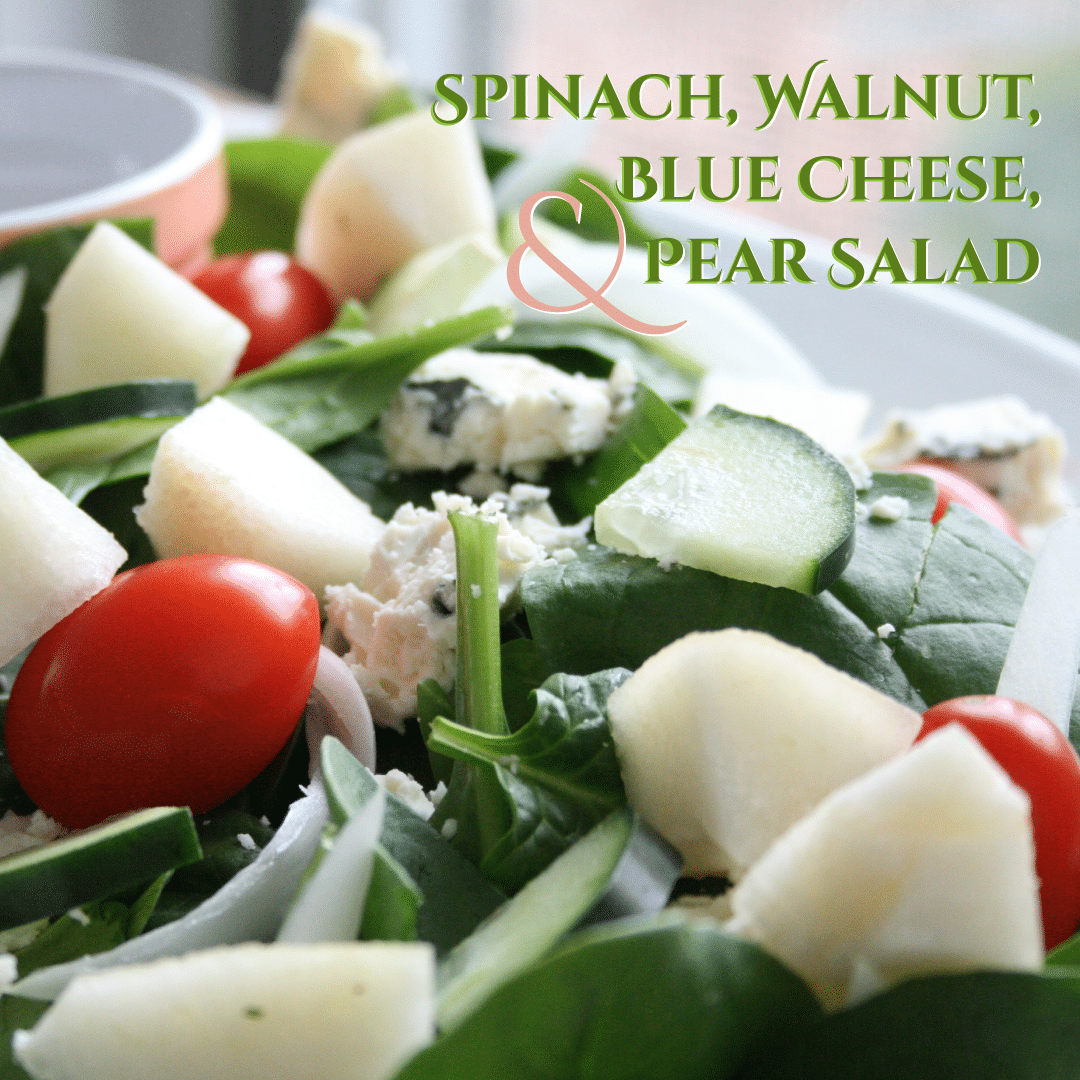 This simple salad is an easy side salad for a dinner for two or a holiday gathering. The sweetness of the pear is heightened by the blue cheese, with a nice crunch from the walnuts to give some texture. You can replace the walnuts with almonds or pecans if you prefer, but whatever you use, be sure that it's certified organic.
We included a simple balsamic vinaigrette dressing from scratch, in case you can't get anywhere you are or would rather make your own (although some are organic, there may be stabilizers to prevent spoiling). It keeps well in the fridge for a week or so and is a cinch to put together.
If you want to turn this into a meal salad, feel free to add organic free-range chicken breast or nitrate-free organic bacon!
Ingredients
2 cups packed organic salad spinach

½ cup organic Walnuts, toasted

½ cup crumbled organic grass-fed Blue Cheese

1 dozen organic grape tomatoes

2 tablespoons organic chopped onions (optional)

1 ripe organic Bartlett Pear, diced or sliced

½ cup organic cucumbers

Organic Balsamic Vinaigrette (you can follow a recipe or use store-bought)

½ cup organic balsamic vinegar

1 tablespoon organic raw honey

1 tablespoon organic dijon mustard

salt and pepper to taste

1 clove organic garlic, minced

½ teaspoon dried organic thyme

½ cup organic extra virgin olive oil or avocado oil
Directions
If making your own salad dressing, combine all the ingredients by whisking until the oil and vinegar have emulsified. You can also do this in a blender. Allow the dressing to sit, chilled, for about 10-20 minutes so the flavors combine.

In a salad bowl, assemble spinach, walnuts, blue cheese, and pears, and toss with a light coating of the balsamic dressing.