Sundried Tomato and Goat Cheese on Roasted Zucchini Rounds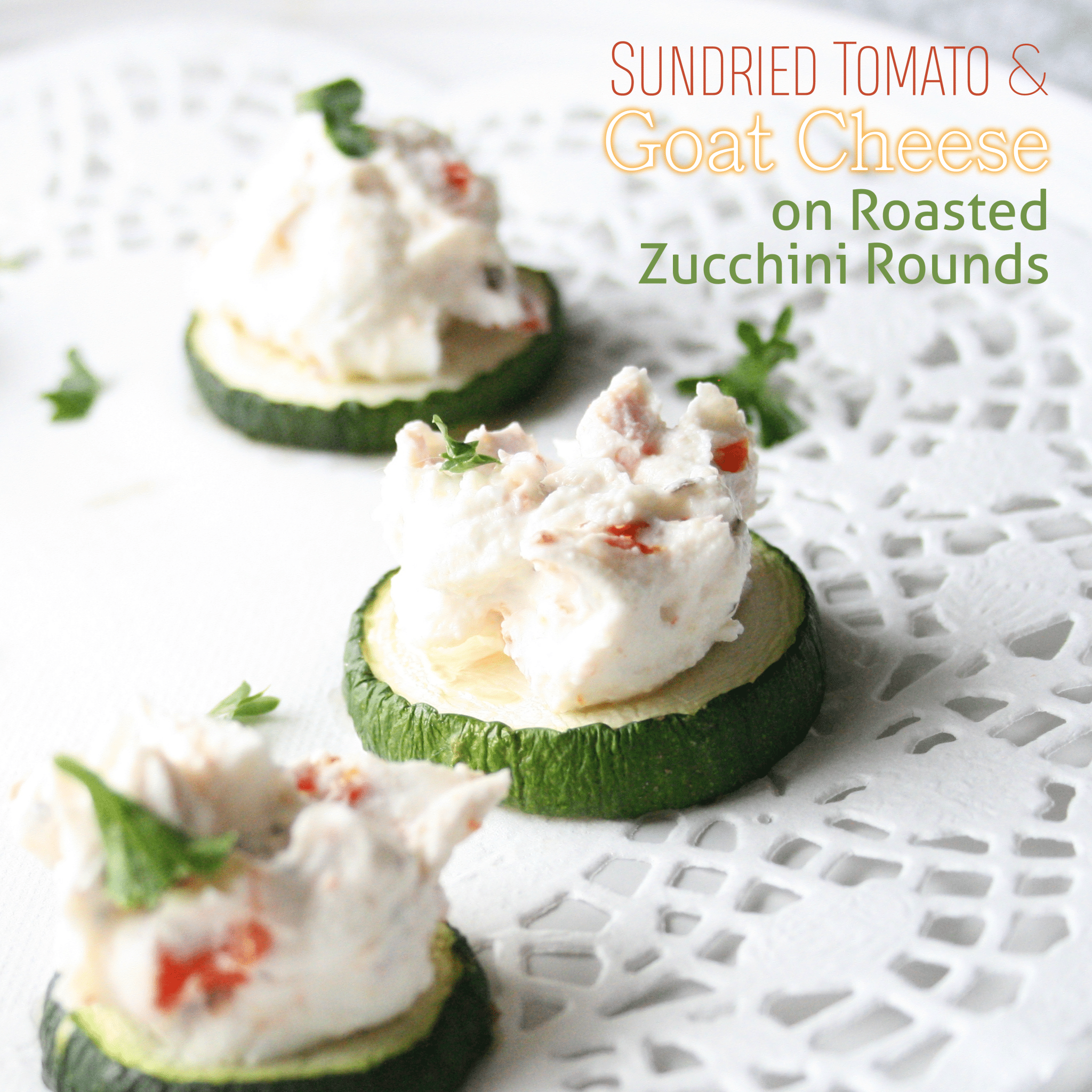 This is a fun appetizer recipe that's simple and delicious to put together. It's a colorful dish that really brings out the flavor of each of the ingredients, especially if you are someone who loves the delicate and irresistible combination of sundried tomato and goat cheese.
Organic goat cheese from grass-fed goats is richer, creamier, and full of flavor with none of the hormones and antibiotics that can disrupt our gut flora. Letting the goat cheese soften at room temperature before using will make it far easier to combine with the ground organic sundried tomato. The organic sundried tomatoes bring a touch of sweetness—you can actually make your own if you have a dehydrator (or a lot of time to dry it out over low heat in the oven.) 
Bring this to a barbecue or break it out for a fancy dinner—no matter where you present it, your guests will surely be impressed by both the color and the flavors.
Ingredients
½ cup organic grass-fed goat cheese softened at room temperature

¼ cup organic  sundried tomato

¼ cup water

Organic zucchini, cut into ⅓ inch thick rounds, about 12

1 tablespoon organic extra virgin olive oil, more to oil the sheet pan

½ teaspoon dried organic oregano

Salt and pepper to taste
Directions
Allow sundried tomato to sit in water for about half an hour to soften and slightly rehydrate. Puree in a food processor, then combine in a bowl with goat cheese, oregano, salt, and pepper. Store in the fridge while roasting zucchini.

Preheat oven to 400 degrees Fahrenheit.

In a bowl, toss zucchini rounds in olive oil and lay them out on greased sheet pan, spaced evenly apart. Roast for 8-10 minutes until somewhat tender but still firm.

Remove from oven and allow to cool (so that the goat cheese mixture does not melt). Spoon about a teaspoon of the goat cheese mixture onto each of the rounds and serve.