Swiss Spinach and Mushroom Omelette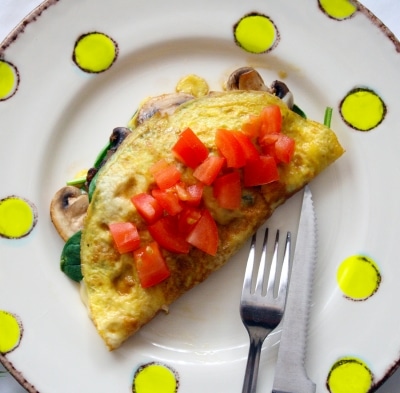 Paleo, Keto, Diabetic Friendly, Gluten Free
Beautiful dark yellow-orange yolks, a rich flavor packed with proteins and vitamins, omelettes made from free-range organic eggs are really a delicious breakfast option. This particular omelette is makes use of tender button mushrooms, creamy swiss, and fresh spinach to bring out the flavors of each ingredient.
Make sure you use organic mushrooms, as they are often dynamic accumulators of toxins (and indeed, there has been some research into how to use mushrooms to clean up waste). Organic grass-fed swiss cheese means you don't have to worry about hormones and antibiotics. Spinach is often commercially sprayed with fungicides and pesticides, so it's of great importance that you buy organic so that everything not only tastes good, but is good for you!
Ingredients (Makes 2 Omelettes)
2 slices organic grass-fed Swiss cheese

4 organic free-range Egg

1.5 cups organic fresh Spinach

1 cup organic button Mushrooms, sliced

1 teaspoon Organic Extra Virgin Olive Oil or Organic Grass-fed Butter

Salt and pepper to taste

Organic Tomato, diced (Optional)
Directions
In a pan over medium high heat, saute mushrooms in organic olive oil or grass-fed butter  with salt and pepper to taste until cooked. Remove from heat and place to the side to allow the liquid to drain.

Beat eggs until well incorporated, and on a pan oiled with grass-fed butter or organic extra virgin olive oil over medium heat, place half of the egg mixture at the bottom of the pan and swirl pan so egg mixture coats.

Place half of the spinach on the omelette, 1 slice of swiss cheese on the other half, and half of the cooked mushrooms in the middle. 

Allow to cook until spinach is wilting and the swiss cheese is melting. Fold omelette over in half.

Remove from heat and plate. Repeat with the other half of the egg mixture. Garnish with tomatoes, if using. 
Do you bloat when you eat certain foods?
If so you should try Atrantil!