Top Tips to Survive Tailgating Season

Lions and Bengals and Bears, oh my!
That's not how the saying goes, but it's football season so we need to improvise based on the animals we will be hearing about!
All these wild animals aren't anything to fear though.
However, there are some techniques you'll want to use to survive football season — more specifically tailgating. 
Our top tips to help you survive the weather, stress, and delicious food this tailgating season are all here.
Enjoy! Go, team!
Atrantil's Top Tips to Survive Tailgating Season — Hike!
We don't want a flag for delaying the game so let's get right down to business.
Tip #1: Don't Sweat the Small Stuff
Getting into the game is awesome. Being with other fans makes it even more exciting — or upsetting. The feel of the crowd is always going to set the tone for your body, but stressing isn't a good idea.
Here are a few things to remember come game time.
Forgetting something essential for the tailgate, isn't something to get worked up over. There's always a store you can stop at to get whatever it is.

A missed field goal, a snap gone wrong, or an incomplete pass that he totally could have caught aren't in your control (even if you definitely would have caught it).

It's not healthy to get so worked up over something that's out of your control that your blood pressure goes through the roof and your gut gets destroyed.
Try to keep calm in all of these events so your health isn't at risk. Plus, stressing makes you eat more and you've probably already stuffed yourself to the max at your tailgate!
Tip #2: Alcohol Might be Your True Rival, Not the Other Team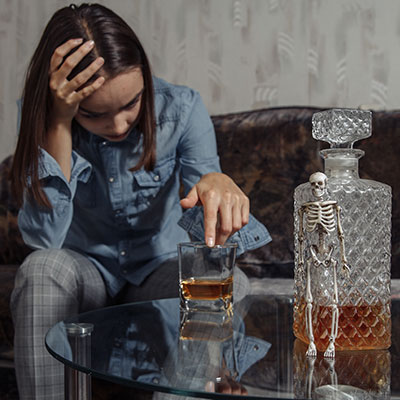 Loosening up and calming your nerves with some alcohol prior to the game makes it even more fun. Most everyone drinks it and it's become accepted as just part of the tradition. 
If you suffer from health issues to begin with, your doctor has probably told you to avoid the poison anyway. Here are some other reasons you might want to hold off on that brewsky. 
Alcohol causes dysregulation of your body temperature. Alcohol always seems to heat your body up. But this isn't always the case. 
Actually, whatever the outdoor temperature is, alcohol will make your body temperature closer to that temperature. 
If it's hot outside you'll get hotter. 
If it's cold outside your body temperature will actually get colder. 
If you're going to drink, just be safe and careful about it.
Keep in mind that drinking alcohol does increase intestinal permeability of your gut so it creates systemic inflammation and issues associated with it. 
Tip #3: Be Prepared for Anything and Everything
You might think you're prepared, only to find out there were some things you could've brought to make your life a little easier.
Check out our list of things you may not have thought you'd need, but you'll be thankful to have them if they're there. 
Toilet paper

Paper towels

Cleansing wipes

Extra coolers for dirty plates and utensils post cooking

Extra ice

Extra cooking and eating utensils 
Tip #4: Beat the Heat and Combat the Cool

Depending on where you are located football season brings different temperatures.
Down south, during those first games of the season, you're looking at blazing heat under a scorching sun. Up north, some of the games end up having sleet and snow.
Preparing for the proper weather is essential to a successful tailgate.
If it's hot outside make sure to:
Keep lots of ice on hand

Bring fans and misters to keep a breeze going and cool yourself down

Use cooling towels

Have adequate shade to stay out of the sun 

If you have access to water and a pump try bringing along a kiddie pool to put your feet in to cool down

STAY HYDRATED — for every alcoholic beverage you drink you should have just as much if not more water. (Remember if it's hot, alcohol will make your core body temperature even hotter putting you at

higher risk of dehydration or heat stroke

)
If it's cold outside make sure to:
Bundle up! 

Pack extra blankets, shoes, clothes, hats, scarves, and gloves. 

Avoid getting wet. Being wet and cold are the fastest ways to get

hypothermia

. 

Have koozies for your drinks

Spiked hot drinks are thought to keep your temperature up but this isn't actually true since drinking alcohol can lower your body temperature even more. Hot cocoa or hot cider without the alcohol will do the trick to warming you up! 

Move around and get some exercise

Put soups in thermoses or crockpots in addition to or instead of your normal pregame fare
Tip #5: Keep Your Foods at the Right Temperatures
Cooked foods and cold foods alike need to be at the right temperature to consume. You don't want liquid ice cream and you don't want a cold burger.
Making sure you keep your foods at the right temperatures can be easier than you think. We have some hacks to make it even easier for you!
Pack your cooler the right way by putting things that can spoil deeper in the ice and things less likely to spoil on top. 
Pack a cooler with tin foil and heated bricks with foil around them to keep hot foods hot instead of dealing with the flame and foil trays. 
Eating your hot foods while they're still hot will prevent you from getting food poisoning and missing out on the game. 
Tip #6: Use the Buddy System
You don't want to get off your diet and you don't want to get mugged by a rival fan when going to the bathroom.
Use the buddy system!
Have a buddy to keep you in check when it comes to eating healthy foods and limiting the bad ones.
Keep each other accountable with exercising too.
Making a lap around the tailgating area before the game gets you some exercise and helps your tummy digest all the delicious treats you've been munching down. 
Tip #7: Bring Healthy Snacks and Foods
If you have a stomach or any other health problem, finding foods to eat that won't make your symptoms flare up can be really hard. 
Make it easier on yourself and others with the same condition by bringing snacks that accommodate everyone! 
Healthy fruits and veggies or grilled chicken are always good snacks to bring along that everyone can enjoy. 
And always remember to take your Atrantil to avoid bloating or having to run to the bathroom all the way across the stadium. 
What are your favorite tailgating survival tips??
Let us know by commenting below!