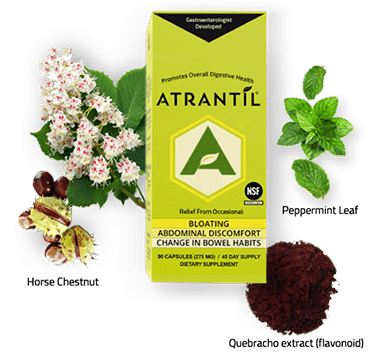 To create something as special as Atrantíl, we pushed the limits of science and scoured the globe for the purest, most effective natural botanicals. We make Atrantíl in the United States with the highest quality controls and processing standards. In addition to Atrantíl's three active botanicals—Quebracho extract, Horse Chestnut and Peppermint Leaf in a unique patented molecular combination—Atrantíl contains very simple ingredients to form the capsule, prevent caking and add a small amount of color. It's free of common ingredients that many people are allergic or sensitive to.
OTHER INGREDIENTS Microcrystalline, cellulose, gelatin, magnesium stearate, silicon dioxide.
FREE OF TROUBLESOME INGREDIENTS Atrantil is completely free of milk, eggs, peanuts, gluten, soy and shellfish.
CAUTION Not to be taken by pregnant or nursing mothers or by anyone with an allergy to any of this product's ingredients. Keep out of the reach of children. Please consult with your doctor or other qualified health care professional before using.