ATRANT

Í

L – GENTLE,
FAST, RELIABLE
The problem isn't all in your head—or even in your colon. When too many bacteria make themselves at home in your gut, they produce gas that causes bloating and discomfort—and sometimes even diarrhea and constipation. Atrantíl targets gas producing bacteria with a unique combination of natural ingredients that helps your body maintain digestive balance.
LEARN MORE >
ANY OF THESE UNCOMFORTABLY FAMILIAR?

Bloating – alone or with constipation or diarrhea
Abdominal discomfort
Multiple irregular trips to
the bathroom
Sluggish or heavy feeling
Digestive distress with
certain foods
Digestive health is important to all of us. For the millions of people who live with the bloating and abdominal discomfort caused by gas in the gut, Atrantíl can help. For those who do not suffer from symptoms of digestive distress, Atrantil can also help. Atrantíl's unique formula continually supports a healthy gut and promotes overall digestive health. Ideal for everyday digestive support, take 2 capsules of Atrantíl daily. For those who have digestive distress take it before enjoying foods that give you trouble—and up to three times a day regularly
until you experience relief. Atrantíl
is a natural solution that delivers
digestive support with dependable
and flexible relief.*
NATURAL BOTANICAL EXTRACTS
CAREFULLY SELECTED FOR
TARGETED RELIEF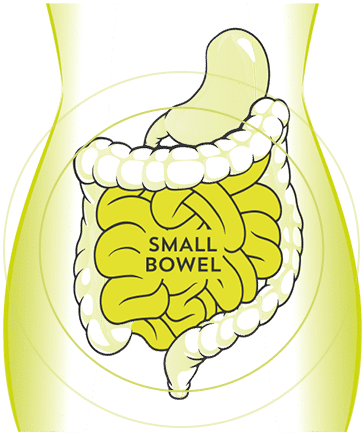 IT'S NOT ALL IN YOUR HEAD —
IT'S IN YOUR GUT
Your gut is going to love Atrantíl. Portions of the gut are intended to contain small amounts of bacteria. If this relatively sterile environment gets overpopulated with bacteria, trouble isn't far behind. When bacteria start to break down the food you eat, they produce methane—which can create abdominal discomfort and that uncomfortable bloated feeling. Atrantíl's three natural ingredients work together to help weaken and remove unwanted bacteria and return your gut to its normal, calm environment.
DEVELOPED BY A DOCTOR —
FOR HIS PATIENTS AND YOU
Dr. Kenneth Brown, a board-certified gastroenterologist in Dallas, treats thousands of patients suffering from digestive distress. Frustrated that available treatments didn't work well, he set out to create his own. He founded KBS Research in 2008 and began the search. Through careful science and rigorous testing, he and his team created Atrantíl. In clinical studies, 88 percent of patients got relief from bloating, constipation and abdominal discomfort.
EVERY DAY OR EVERY NOW AND THEN —
ATRANTÍL PROVIDES RELIEF
Atrantíl is suited to provide everyday daily digestive support and balance with a daily dose. However, abdominal discomfort, bloating and related constipation or diarrhea may bother you all the time or only sometimes. But even once is one time too many. If you only have occasional symptoms, try taking Atrantíl before you eat foods that you know cause flare-ups. If you're in discomfort, take Atrantíl up to three times a day regularly. Over time, even frequent sufferers find relief.*
GET RELIEF TODAY >
THREE NATURAL BOTANICALS
WORKING IN HARMONY
FOR A HAPPIER YOU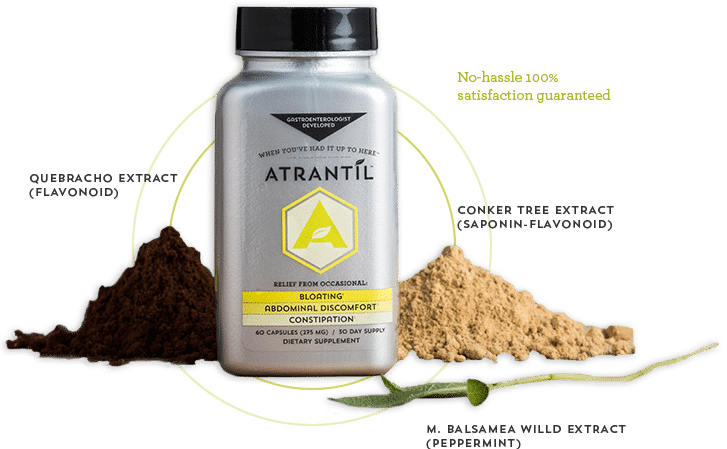 Atrantíl isn't a probiotic or antibiotic—so you don't need a prescription from your doctor. Instead, it's a patented nutraceutical that combines three natural botanical extracts to help your body remove unwanted methane producing bacteria. The three ingredients work by calming the gut with M. balsamea Willd extract (peppermint), then soaking up hydrogen with Quebracho extract (flavonoid) and stops methane production with Conker Tree extract (saponin/flavonoid).
LEARN MORE >
RELIEF THAT'S EASY ON YOUR BUDGET — DELIVERED
TO YOUR DOORSTEP
Atrantíl is a scientific breakthrough we're eager to share. Even though the science and research that led to its development are expensive, we're making sure Atrantíl is an affordable option for the people who need it. We've made it easy and convenient to order online and are expanding our network of retail outlets—including pharmacy, grocery and health and fitness stores.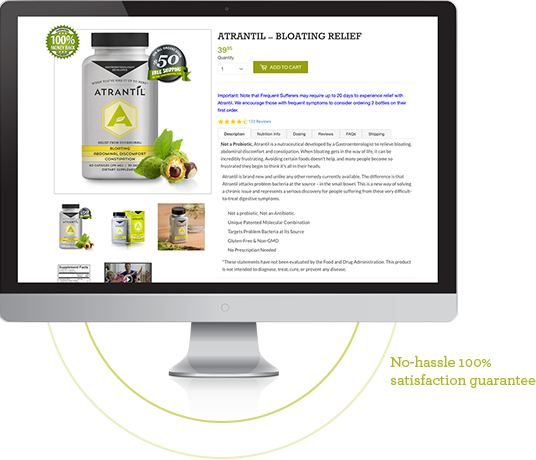 "I had the blessing of interacting with someone who told me she had tried Atrantíl after being recommended by her doctor, and she said her results were nothing short of miraculous. I decided to order it and give it a shot. … It's been two weeks now, and I haven't had a single reaction to the food I've eaten. … I am grateful for Atrantíl for giving me my life back. I am recommending it to everyone. Do yourself a favor, and order it now!*


NAOMI | Verified Purchaser

"I've suffered with bloating my entire life, and I was hesitant to believe all the hype I had heard about Atrantil because I've tried so many exercises, yoga practices and medicines in the past. I've been taking one dose of Atrantil each day for the past three weeks and have noticed significant improvements. Now, in all fairness I've continued my exercise routine while taking Atrantil, which has proven to provide me the greatest amount of relief. However, I haven't taken any Gas-X or Tums because I truly wanted to be able to evaluate Atrantil. I've been so impressed with Atrantil and am very grateful to the creators. I hope anyone suffering from bloating discovers Atrantil and finds the relief I have.*

CAITLYN | Verified Purchaser

"Atrantíl is the answer to my long search for a product that would help to alleviate my years of constipation and bloating. I suffered from discomfort, lethargy, always feeling 'full' and never having a flat stomach, no matter how many crunches I did! I LOVE this product!*

STEPHANIE | Verified Purchaser

"When I got my hands on this product, it was like finally finding the 'gold at the end of the rainbow.' I've been taking this product for a week now and I feel better than I've felt before. … Taking two capsules before a cheat meal gives me the peace of mind to know that no abdominal discomfort's going to follow. I'd recommend this product to anybody out there suffering with any form of abdominal discomfort!*

CRAIG | Verified Purchaser
*Individual results may vary.
WHAT
CAUSES BLOATING?
Bloating occurs in the upper GI tract, and not the colon

Bacteria can cause distress by using the food you eat to create methane gas
Harmful bacteria can populate the upper GI tract creating an unbalance

Methane gas slows down the motility of the upper GI tract, which creates an environment for more gas to be created and uncomfortable bloating can occur

LOOK WHO'S

TALKING ABOUT
ATRANT

Í

L
Atrantíl's helping thousands of people feel more comfortable every day—and good news gets noticed.

Redbook magazine features Atrantíl as a remedy for bacterial overgrowth

READ ARTICLE >

VeryWell Health product review of Atrantíl for bloating relief


READ ARTICLE >