Grilled Peaches With Fresh Whipped Cream
Often, when you think of barbecues, your mind automatically drifts to ribs and steak and chicken.
All of that is fine and dandy, but did you know you could grill fruit too?
Juicy peaches with lightly charred grill lines and home made whipped cream are not only impressive, but a delicious and healthy dessert.
A hint of mint gives it an extra special touch.
Organic peaches are not only sweet and flavorful, but healthy for you too.
Often, peaches have residual pesticides due to the fact that everything and everyone wants to eat them.
Splurge for organic, you won't regret it! If you were wondering what makes fruit mealy–if peaches have been refrigerated, they tend to turn mealy. 
If you can, get freestone peaches instead of cling.
What's the difference, you wonder?
Free stone peaches have a pit that's easily removed, while the flesh of cling peaches stick onto the pit.
You can omit the salt and pepper, but the sweet and savory combination is a pretty great one.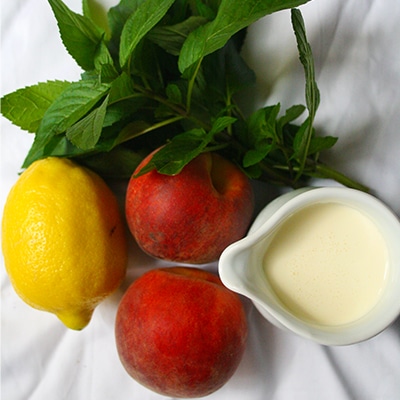 Ingredients
1 pint grass fed organic Heavy whipping cream

4 – 6 organic free stone peaches, halved with pits removed

½ teaspoon Stevia or honey

2 tablespoons fresh organic Mint, minced

Juice of one organic Lemon

Pinch of Salt and pepper




---
Mix lemon juice with minced mint and toss peach halves until well covered.

Add pinch of salt and pepper and grill peaches, exposed flesh side down on high heat until slightly charred.

With an electric whisk, whisk heavy whipping cream with stevia or honey until stiff peaks form. Serve with grilled peaches.