Roasted Brussel Sprouts With Pear and Bacon Recipe
Key Notes: Paleo, Keto, Diabetic-friendly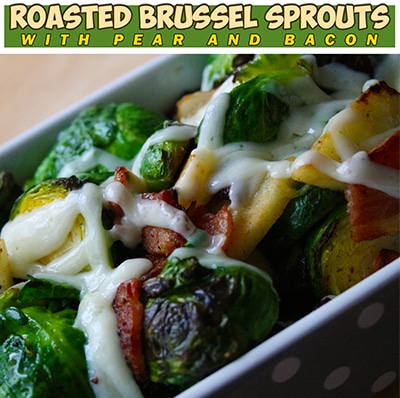 ---
Careful, this side dish could accidentally be all you want to eat! Slightly charred and nutty organic brussel sprouts, caramelized organic pears, and salty, smokey nitrate free organic bacon come together in a scrumptious tray. A perfect companion for lunch and dinner, or that snack you're constantly sneaking bites from out of the fridge, it's additive in the best way. Nitrates/nitrites are terrible for the body, so organic bacon is a must. Organic brussel sprouts are a safe and healthy way to get some leafy vegetables, and getting your bartlett pears organic means you don't have to worry about pesticides or herbicides hiding amongst your food. You can easily double or triple the amounts for a party, and it reheats well as leftovers.
Ingredients
1 lb organic brussel sprouts, halved

½ organic bartlett pears, sliced

2 slices nitrate/nitrite-free organic bacon, chopped

2 tablespoons organic extra virgin olive oil

1 pinch of organic nutmeg

Salt and pepper

½ cup shredded organic Manchego or Parmesan cheese




---
Preheat oven to 400 degrees Fahrenheit.

Toss halved brussel sprouts, sliced pears, and chopped bacon with olive oil, salt and pepper to taste.

Roast in the oven on for 30 – 45 minutes until slightly charred, shaking the pan occasionally to ensure even cooking.

Remove from heat and garnish with shredded manchego or Parmesan cheese.