Shrimp Ceviche Recipe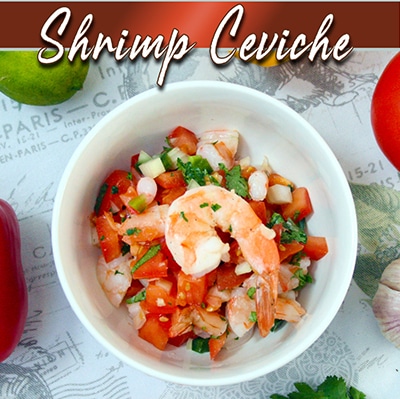 A gorgeous and refreshing dish, shrimp ceviche is an appetizer that is sure to please!
The delicious crispness of the bell peppers, the acidity of the citrus fruits, plus the sweet taste of shrimp straight from the oceans creates a crowd pleasing dish.
While you can eat it immediately, giving the ceviche some time to marinade and penetrate all the ingredients will create a better flavor.
Remember to use wild caught, organic shrimp since the chemicals gone in to rear farmed shrimp makes for not only unhealthy, but mushy and flavorless shellfish.
You should also pay special attention to sourcing organic citrus fruits, as this recipe calls for the zest, which is where those pesky pesticides and fungicides would hang out.
Bring it to barbecues or to your next fancy dinner party!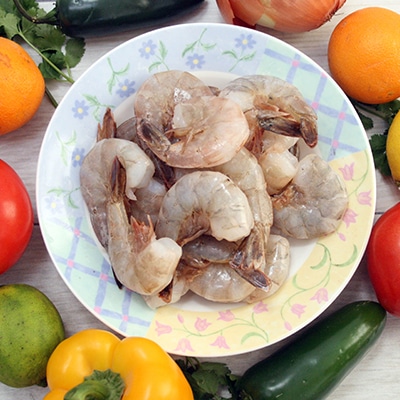 Ingredients
¼ cup organic onion, diced

¼ cup organic bell pepper, diced

¼ cup organic tomato, diced

2 tablespoons organic cilantro (or organic Parsley)

8 – 12 organic wild caught shrimp, deveined and shelled

2 tablespoons organic lime juice, and zest

2 tablespoons organic lemon juice, and zest

2 tablespoons organic orange juice

Salt and pepper to taste

1 teaspoon organic Jalapeno, diced (optional)




---
Boil shrimp in boiling water until color has changed and is firm. Take care not to over cook or else shrimp will be tough. Place in iced water.

Once cooled, cut shrimp into ½ inch pieces and set to the side.

Combine diced onion, bell pepper, tomato, cilantro or parsley, lime juice, lemon juice, orange juice, diced japanenos if using, and salt and pepper to taste.

In a bowl, mix with shrimp and allow to marinade for at least one hour. Serve chilled with zucchini or beet chips.