Spicy Salmon Crab Bombs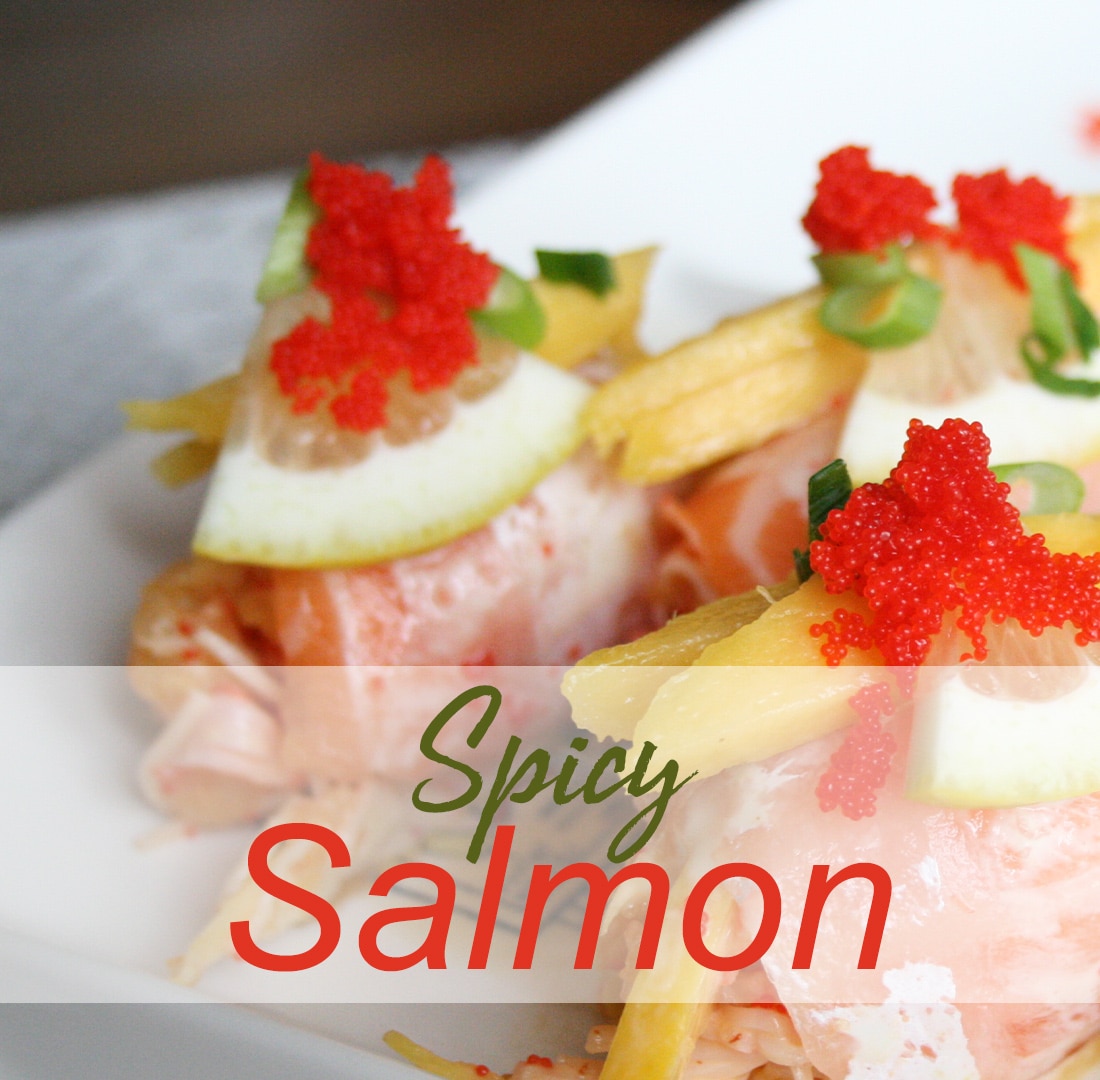 If you love Japanese food but don't want to go to a restaurant to enjoy this fun dish (or you want more fresh and healthy seafood options), you'll enjoy this Spicy Salmon Crab Bomb. Other than making sure you procure sushi-grade wild-caught salmon, it really is a breeze to put together. If you absolutely cannot find sushi-grade salmon, cold smoked wild-caught salmon is an excellent substitute.
The yummy spicy mayo sauce is actually extraordinarily simple, despite being a delicious staple in sushi cuisine. Using organic olive oil mayonnaise and organic sriracha hot sauce ensures you don't accidentally ingest some pesticide/herbicide/fungicide residue.
Usually, the sushi restaurants give you imitation crab meat (the other mystery meat), but here we implore you to use wild-caught king, snow, or blue crab meat. Not only does it taste better but it's jam-packed with healthy protein. Coupled with healthy fatty acids from the salmon, this is a keto dream appetizer.
Ingredients (Serves 1, 5 pieces)
5 quarter-inch slices of 3 inch by 1.5-inch slices of wild-caught sushi-grade salmon (if you don't have, wild-caught cold smoked salmon is an excellent substitute)

½ cup wild-caught king, snow, or blue crab meat

¼ cup organic mango or organic cucumber, matchstick

1 tablespoon organic olive oil mayonnaise

½ teaspoon organic sesame oil

1 teaspoon (or more, if you prefer it spicier) organic sriracha sauce

Organic tobiko (flying fish roe, for garnish (optional)

1 tablespoon thinly sliced organic scallion or chives, for garnish (optional)

Thinly sliced lemon triangles, for garnish (optional)

Organic non-soy "soy" sauce, (optional)
Directions
Combine crab with mayo, sesame oil, and sriracha.

Taking a slice of salmon, lay 3-4 mango or cucumber matchsticks perpendicular to the long side of the salmon. Place one heaping tablespoon of the crab mixture onto the salmon and roll it so that it looks like a roll-up wrap.

Garnish with tobiko, scallions or chives, and thinly sliced lemon wedges, if using. Serve with non-soy "soy" sauce (such as coconut amino) if using.