Steak With Homemade Chimichurri Sauce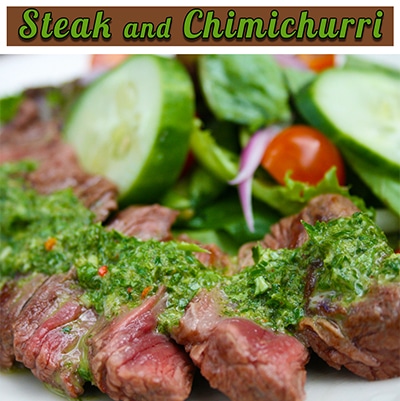 Key Notes: Keto, Paleo, low carb
---
This homemade chimichurri sauce is divine over a flavorful cut of steak such as skirt or hangar.
Using organic grass-fed beef means a more flavorful steak with no hormones and no antibiotics, which are usually rampant in the beef industry.
Chimichurri is a sauce originating from the South American countries of Argentina and Uraguay.
While it is traditionally made with a red wine vinegar, substituting it for lime juice gives it a refreshing kick.
It's an impressive entree for date night, or a scaled down version can be served tapas style.
You can freeze the leftover chimichurri sauce in an ice cube tray for easy individual portions.
This way you'll have the delicious sauce for weeks to come!
---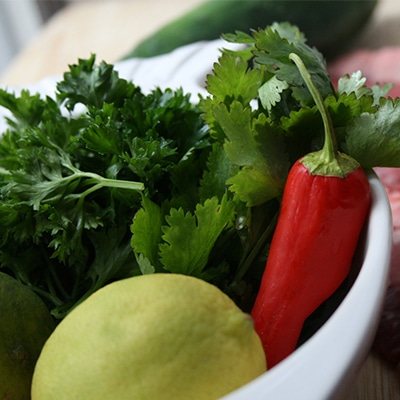 Ingredients for the homemade chimichurri
1 cup fresh organic parsley

1/2 cup organic extra virgin olive oil

1/3 cup organic lime juice or red wine vinegar

1/4 cup fresh organic cilantro

4 cloves organic garlic (avoid if allium intolerant)

1 teaspoon dried crushed red pepper (avoid if nightshade intolerant)

1/2 teaspoon ground cumin

1 teaspoon organic raw honey

Salt and pepper to taste
Ingredients for steak and mixed greens
8 oz organic, grassfed hangar or skirt steak

Salt and pepper to taste

1 – 2 tablespoons extra virgin Olive oil

2 cups mixed greens (baby spinach, lettuce, arugula)

3 – 4 organic cherry tomatoes, halved (avoid if nightshade intolerant)

1 tablespoon organic diced onions (avoid if allium intolerant)

3 – 4 slices organic cucumber




---
In a food processor, combine all the ingredients and pulse until desired consistency. Longer blending time will result in a smoother, emulsified sauce, while less will result in a chunkier sauce.

Mix together greens, cherry tomatoes if using, onions if using, and sliced cucumber if using. Set on final plate.

Drizzle olive and add salt and pepper to steak. Mix well to combine.

Over medium high heat, sear steak on each side to desired done-ness. Remove from heat and allow to rest for 5 minutes. Slice and place over mixed greens.

Spoon chimichurri sauce over steak, and freeze the remainder.